Bluetooth Wireless Hat 2.0 + FREE Touchscreen Gloves
Bluetooth Wireless Hat 2.0 + FREE Touchscreen Gloves
Wireless. 

Comfortable. 

Magical. 
Looking for a SIMPLE and EASY way to listen to your favourite tunes while staying WARM this winter? Well this hat is EXACTLY what you need. Make a style statement while DISCREETLY jamming out to your music!
Stay WARM while enjoying HANDS-FREE music and calls, making the Bluetooth Hat 2.0 PERFECT for outdoor winter sports and activity. With ONLY three buttons, instantly sync to your device in SECONDS, WITHOUT the hassle of using headphones!
P.S. SAVE 50% OFF TODAY ONLY!
 Why make using tech hard when you DON'T have to?
(TODAY ONLY) GET A

FREE

PAIR OF TOUCHSCREEN GLOVES WITH
EVERY

PURCHASE!
**VERY LIMITED QUANTITY AVAILABLE** 
---
---
---
Customized Comfort
Whether you have a large head or a small head, it's a perfect fit for you. We all know the NIGHTMARES of the "One Size Fits All", that is why the Bluetooth Hat 2.0 is ENGINEERED to ensure the perfect blend between STRETCHABLE knitting and a SNUG fit. Even better, the speakers within the hat are easily movable to suite your desired placement. 
--- Completely wireless like it should be
Wherever you are, anywhere you go, the Bluetooth Hat 2.0 is ready to move too. SEAMLESSLY sync to your devices with instant set up. SIMPLY turn on your hat, pair your hat to your device, and voila! You won't have to pair again after initial setup!  The Bluetooth Hat 2.0 allows for a wireless range of 33 FT (10 metres) signal STRENGTH without skipping a beat.
---
---
Connect To Anything
The latest edition to the Bluetooth Hat 2.0 is its compatibility; seamlessly sync to ALL IOS/Android/Google devices, tablets, laptops and other wireless bluetooth devices within SECONDS! Integrated on-ear controls allow you to take calls, play music, and adjust volume with a touch of a button!
*Compatible with all old and new versions of IOS, Android, Blackberry, Windows & Google devices.
---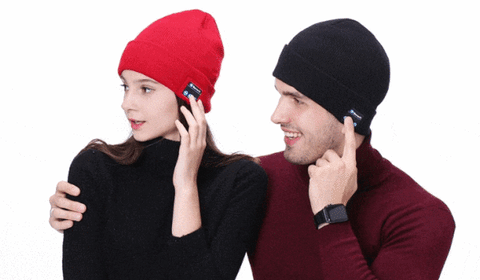 Make the music apart of you
The dual speakers are engineered to produce well BALANCED sound and bass, even on higher volumes. The knitted material provides MINIMAL sound leakage. So when you're jamming out to your favourite song or taking your next call from a loved one, you won't have to WORRY about others hearing you!
---
Longer lasting battery life
UPGRADED 180mA Li-ion battery power delivers 6-8 hours of CONTINUOUS music or call time, 1-2 hours charging time, & 60 hours standby. EVERY Bluetooth Hat 2.0 is equipped with a micro USB for charging. The charging port is HIDDEN under the control pad on the hat so it doesn't distract from the look.
---

Three buttons, simple interface 
Take calls. Play music. All WITHOUT taking out your phone.  
---
---
 So now you having

nothing

to lose and

everything

to gain
Take advantage of this

special offer

before the

price increases!
This is our Mega Elephant Guarantee. Our promise to WONDERFUL customers like you. 
Try out the Bluetooth Hat 2.0 for 30 days when it gets delivered to you;
If you are not 100% satisfied that your hat keeps you warm while allowing you to listen to your favourite tunes....
If you're just not happy with your Bluetooth hat for any reason.....
*You're entitled to a refund on your purchase. No questions asked, just a thanks for giving us your business.